Nursery - RED CLASS
Welcome to the Nursery Class Page. We are the Red Class.
| | |
| --- | --- |
| Mrs Hesselworth - Class Teacher | |
| Mrs Vaughan - Teaching Assistant | |
| Miss Groombridge - Teaching Assistant / Administration Assistant | |
| Mrs Willson - Teaching Assistant | |
The nursery offers both 15 hours and 30 hours per week during term times, depending on individual funding. These are provided in either a morning, an afternoon or all-day sessions. The Nursery offers an early drop for a £1 Charge. Extra sessions can be offered depending on Nursery availability. These sessions will have an extra charge of £15 for 3 hours. We do not accept children under 3 years of age.
AM: Monday to Friday 09:00 to 12:00
PM: Monday to Friday 12:00 to 15:00
All-day: Monday to Friday 09:00 to 15:00
Our topics this year are:
Term 1: All About Me
Term 2: Colours
Term 3: Nursery Rhymes
Term 4: More Fantastic Stories
Term 5: Growing/ Food
Term 6: People At Work
---
The Red Class 2020-2021
---
Term 1 - 2020
All about me!
Week 7 - Growing!
Thank you for all of your donations for Eco Week! Here are some photos of the Nursery children enjoying planting with their friends.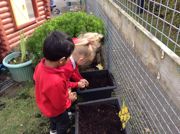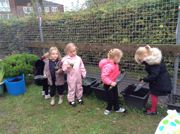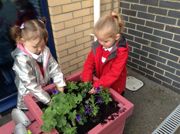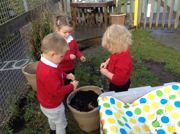 16th October- Nursery Newsletter
Week 6 - Our Nursery!
9th October- Nursery Newsletter
Week 5 - Our Friends!
2nd October- Nursery Newsletter
Week 4 - Our Shapes!
25th September - Nursery Newsletter
Week 3 - All about me!
18th September 2020- Nursery Newsletter
Week 1/2 - Getting to know you!
We have had a busy first full week at nursery! This week we have spent some time getting to know our teachers and making lots of new friends! We have thoroughly enjoyed playing with the toys in our nursery and getting to enjoy our brilliant outside area too!
---
Home Learning
We now have our class email address up and running and would love to hear from you with messages or pictures of what you have been doing whilst at home! We are also here for any questions or queries you may have, please do not hesitate to email us at the following email address:
Topic-Based Home Learning
Thank you to all the children and parents of Shatterlocks Nursery 2019-2020. Although it has been a confusing time for all, we have enjoyed teaching each and everyone one of your children and wish them all the best of luck for September. Please see below some summer activities you may wish to do with your children.
Thank you for all your hard work and continued support. We hope you have a lovely summer.
Home learning summer activities
Garage / Schools
Hairdressers / Pharmacist / Opticians
The Supermarket / The Shops
Handa's Surprise / The Very Hungry Caterpillar
Jack and the Beanstalk / The Enormous Turnip
Titch / Jasper's Beanstalk
Easter Holiday Activities
Home Learning Resource - Easter Activities
The Gingerbread Man / The Three Little Pigs
Thank you for all your hard work supporting your child's home learning through this extremely difficult and confusing time. We hope you have found our online resources helpful in organising activities for your child. Please enjoy these photos sent in of our amazing Baby Shark pupils completing their home learning activities. We hope you are all staying safe and following the government guidelines.