SEND
Shatterlocks Infant and Nursery School is a fully inclusive school. We provide an environment where all pupils can fully access a broad, balanced and creative curriculum and fully participate in all the activities of the school, irrespective of ability, disability, race, gender, ethnicity or social origin.
As a school, we can access a range of services and professional support through the LIFT process. (LIFT – Local Inclusion Forum Team) Please see the SEN report for parents for further information.
Kent also provides a range of services available which is called the local offer, these services are available by accessing the Kent Website. Kent's local offer is all about making it easier for parents and carers to find out about services available to 0-25-year-olds with SEND.
For more information, please explore the links below or contact our Senco through the main office.
---
Inclusion Team

Miss O'Dell Headteacher

Mrs Buckingham Dudley Assistant Headteacher / SENCO

Mrs Swaffer Pupil and Parent Support
---
Mainstream Core Standards
Provision that the local area expects to be made available for children and young people with Special Educational Needs and/or disabilities attending mainstream schools
Useful Links and Documents
Autism - The National Autistic Society
Dyslexia - The British Dyslexia Association
Kent's Local Offer - SEND support from Kent
Portage for Parents - SEN Early Years Support
SEN code of PracticeParent's Guide to Early Help
Early Years - chat, play, read, everyday adventures for you and your child
Early talk boost - Support for 3 and 4 year olds with delayed language
Tiny Happy People - activities to develop language skills
NHS Children's Therapies, The Pod - advice from speech and language
Parent Coffee Group leaflet 2022 - 2023
Parent STLS CI CL Clinic Flyer 2022 2023
SEMH Parent Clinic Flyer 2022 2023
Dyslexia
Dyslexia is general term for disorders that involve difficulty in learning to read or interpret words, letters, and other symbols, but that do not affect general intelligence.
For further information please use the link below to find out more...
Dyslexia is not typically assessed until children are at least 7 or even 8 years old.
If you are worried that your child may be dyslexic you can take a short test to see the likeliness.
Please speak to Mrs Buckingham-Dudley if you would like additional advice or an a more in depth assessment which is capable of identifying the chances of dyslexia. This is not a diagnosis tool it does show the possibility of dyslexia.
Dyslexia Pre-screener Test 5-7 years - Nessy Learning
Autism
The Autism Apprentice offer expert guidance and support to families caring for young autistic people (with or without a diagnosis)
Nurture UK
What is nurture?
The concept of nurture highlights the importance of social environments – who you're with, and not who you're born to – and its significant influence on social emotional skills, wellbeing and behaviour. Children and young people who have a good start in life are shown to have significant advantages over those who have experienced missing or distorted early attachments. They tend to do better at school, attend regularly, form more meaningful friendships and are significantly less likely to offend or experience physical or mental health problems.
The nurturing approach offers a range of opportunities for children and young people to engage with missing early nurturing experiences, giving them the social and emotional skills to do well at school and with peers, develop their resilience and their capacity to deal more confidently with the trials and tribulations of life, for life.
The six principles of nurture
Everything we do has been based on and guided by the six principles of nurture. For example, our National Nurturing Schools Programme is based on the six principles of nurture that have successfully underpinned nurturing approaches for over 50 years.
Today there are hundreds of National Nurturing Schools around the UK. Teachers are trained to focus on emotional needs and development as well as the academic learning of all pupils, and to embed the six principles of nurture throughout the policies and practices of a school.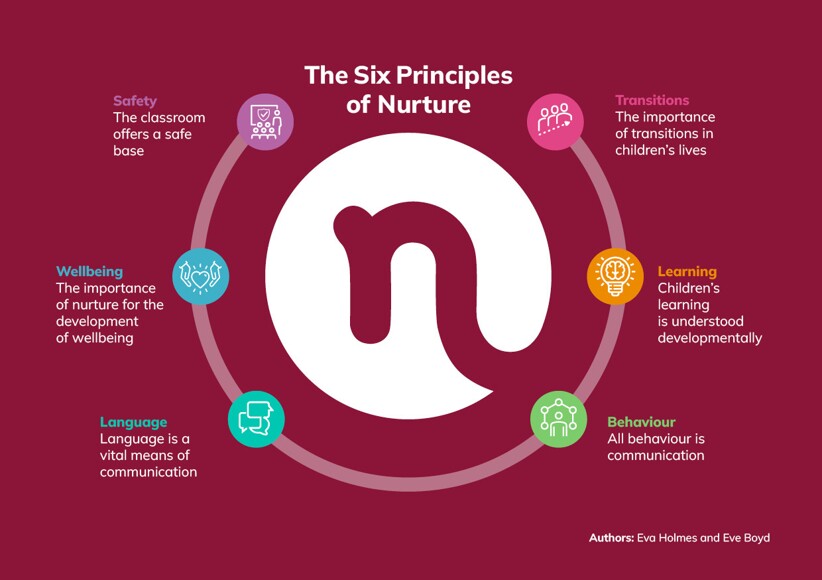 The graduated approach to nurture
Our graduated approach to nurture ensures that every child in the school has the opportunity to flourish in their education. It ensures that every child has access to the support they need, when they need it. Whether they enter the education system with early childhood trauma, or experience it during their time in education, we work to measure and support the social, emotional and mental health of all children, so no child falls through the cracks.
The Boxall Profile
For the assessment of children and young people's social emotional wellbeing.
Please see the downloads fro more information on the Boxall Profile and how we use this to support the wellbeing of our pupils.